Java is the backbone of the programming industry. It is everywhere. It has the capability to create any type of web application, software, and architecture. Java is widely used in the IT industry. That's why its popularity is increasing day by day.

Many students want to learn it and make a successful career in it. So in this blog, you come to know about the scope of Java and how a student can make a good career in java programming.
How to start learning Java
Many students acquire the java programming language to make a career in it. But for beginners, it is quite difficult to conquer the concept of java programming, you need to learn C programming.
C programming is a procedural programming language. It can help you to understand the concept of a basic programming language. After that learn C++. While learning C++ you come to know about the basic functionality of an Object-oriented programming language.
Once you finish C and C++. It is time to start Java. Java is a very secure language because it has to perform all OOPs concepts. i.e
Why should you choose Java To become a Software Developer?
Java is an independent platform and has a rich library. Therefore Java makes developers' jobs much easier. Developers can develop any type of web application in Java. Java programming works on the WORA principle, that is (write once run anywhere).

Most big companies choose Java to build their software because Java is a versatile programming language and the software made in it is light and fast. Java is a never-ending programming language; once you complete Java SE then, you get the opportunity to learn Java EE after that, Hibernate & Spring frameworks. Therefore if you want to grow skillfully with good earnings, Java is the best Career option.
Java OOP Concepts
Encapsulation,
Abstraction,
Inheritance
Polymorphism.
Demand For Java In 2022
Since Java language is simpler to use than other programming languages, Java jobs are popular among beginners. It is equally known for its performance, as it provides high processing speed for both desktop and mobile interfaces in apps, video games and applications. More than 9000 companies are using java in their technologies. That predicts there are tons of job opportunities in the Java industry to build a good career in Java.
Also Read
Tips on choosing java project topics for Assignment
Most Famous TechGiant Companies are Using Java
Google, Instagram, Uber, Airbnb, and Pinterest are some famous companies that use java to manage their technologies. Java is an open source programming language so the companies do not need to buy any Licence.
Hot Skills you will gain while learning Java
Oracle database SQL and JDBC
Java-based Web services
Java Servlet Technology
XML,X query, XSL
J2EE framework
JSP
Enterprise Java Beans
Service-Oriented Architecture
Salary In Java USA
In India Java programmers at the entry level can earn Rs. 2 to 5 Lakh per annum. Up to Rs. 12 Lakh annually can be received by those with Java certification and experience. The average salaries (USA) are given below:
Industry Roles in Java
Software Developer
EJB Programmer
Web Programmer
Application Developer
Web developer
Certifications In Java Programming from Sun
Accomplishing Sun Java Certification tests is the perfect way to prove your Java programming abilities. A glossary of general Sun Java Certifications is presented below.
Sun Certified Java Associate (SCJA)
Sun Certified Developer for Java Web Services (SCDJWS)
Programmer (SCJP)
Sun Certified Web Component Developer (SCWCD)
Mobile Application Developer (SCMAD) Sun Certified
Sun Certified Enterprise Architect (SCEA)
Business Component Developer (SCBCD) Sun Certified
Sun Certified Java Developer (SCJD)
Also Read- What Does Java Do
Become Android Developer after Learning Java
For developing enterprise-scale web applications, Java is commonly used. Java is considered to be highly robust, and so it has been embraced by many large companies. Java is the language you should learn if you are looking for a development-based job at a large company. In Android App Creation, it is used widely. Therefore, if anyone is willing to find a career in Java as an Android App Development, he should have an intermediate level of experience.

A career in Java Programming Language
Java is everywhere, from mobile applications to web applications. A developer can build any type of software with Java. Java beats python in speed and security programming languages. There are several career growth opportunities in Java.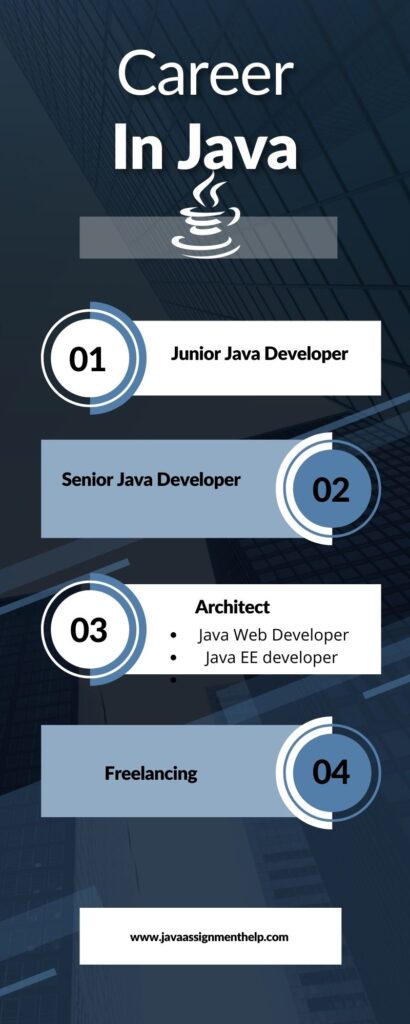 1 Junior Java Developer 
Every java developer starts from this position.A developer is responsible for writing, testing, analysing, and debugging the code in this position. While working at this position, one must focus on learning new skills in Java, like how APIs and applets work. The employee in this job designs and develops high-volume low-latency applications for high performance and ability. Itis one of the best positions for freshers.
2 Senior Java Developer
A proficient Senior Java Developer's job is to gather system and user requirements. He is responsible for building and testing java modules before releasing them. A Senior Developer also manages to provide work to their junior developers and lead them to make or provide better products for clients. He can conduct the programming testing and software analysis and recommend changes for better establishments.
3 Architect
The layout of the application matters a lot. So, a Java architect is liable for designing and developing the app. The architect is responsible for selecting the finest technologies for the developed program and ensuring that they are all compatible.
Apart from this, there are field-specific job ads that need a programmer to be proficient in a certain set of skills. Large firms that don't require a Java program that can handle everything but a programmer who specialises in a certain area, usually optimising or enhancing an existing product. These include jobs such as-
Java Web Developer 
Java gives strong support to web applications. A java Web developer is responsible to test, debug, and write back-end code that supports websites and web applications. This role requires a high level of expertise for java and related technologies like servers and databases.
Java EE developer 
Throughout the entire life cycle of application creation, J2EE developers have main responsibilities. In order to develop high-performing and highly scalable applications, they support draught software concepts and technological designs. Based on particular market criteria, they devise and execute solutions.
Bonus career in Java-
Freelancing
Freelancing has become feasible because of the numerous freelancing websites available, for example, LinkedIn. Freelancing as a Java career option can also be done part-time. You get experience and build your resume.
However, freelancing work also includes difficulties-
Unpredictable work
Impatient clients
Pay is lower at first.
Competition is high.
Freelance jobs for java developers may be divided into two categories-
a) Programming job
Jobs that need you to work on a project or build a new feature are known as coding jobs. This is where you write your Java code. These are excellent places to begin your career. Luckily, most of these positions are available from home. As a Java app developer or a Java web developer, you can work as a freelancer.
b) Consulting Developers
These are the developers with several years of industry expertise. When a firm is working on a tight deadline, such as the launch or upgrade of a product or feature, they appoint these people. The freelancer becomes a project team member, and the work is usually done on-site. The contract expires when the project is completed.
Conclusion
Technology trends are coming and go. But if you want to stand in that you need to hustle every day. A java developer must also stay updated and explore the latest trends in java technology. As a result, you can make a good career in java but you have to work with the trend.
Java brings all types of responsibilities for you. Java is one of the best programming languages. A proficient java developer can make a good career in Java. If you have help regarding with java programming assignment, don't worry we have a dedicated team of java experts who are available at any time.
FAQs-
1 What are the traits of a successful Java Developer?
Determination,
persistence, and
Willingness to learn something new daily.
The above are the traits required for becoming a successful Java developer. The industry is developing fast, so these qualities are essential.
2 What exactly does a Java developer perform?
A Java developer is a skilled programmer who utilises their expertise in the Java programming language to test and build applications. Java programmers utilise their skills to design, modify, monitor, and repair software on various platforms.