Are you searching for the benefits of Computer networks? If yes, then this article will be beneficial for you.
Before you can know what the Benefits of Computer Networks are, you need to know
What Computer Networking is?
A computer network is when two or more computers are connected to share information and resources. The network or IT admins can set up these computer networks.
Every business needs computer networking, and the person in charge may know how important it is to have high-quality IT and Network services.
To set up all of these IT and network services, you need to talk to a good IT services provider. They are the only ones who can tell you what the best solution is for your business. But technology changes all the time, and so does networking.
In this blog, we will cover 15 + benefits of computer networks. Let's have a closer look at this.
Benefits of Computer Networks
Setting up a computer network is a quick and safe way for a business to share information and resources. It can help you get the most out of your IT equipment and systems.
Here is the list of benefits of computer networks: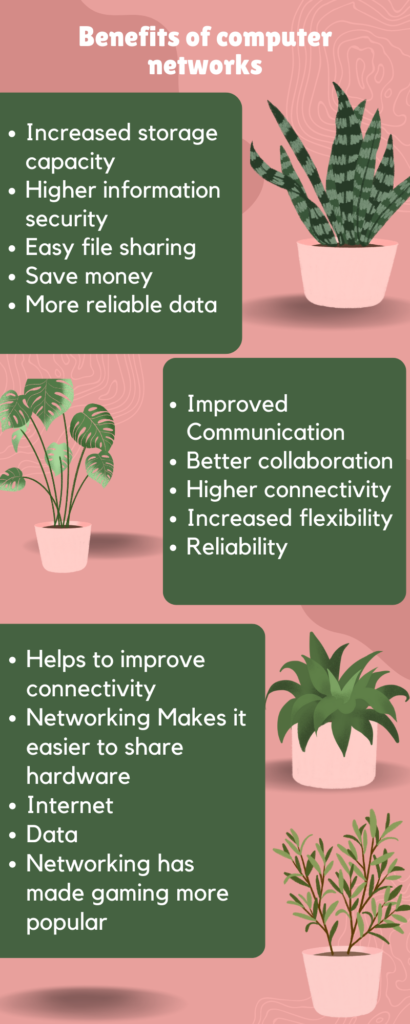 1. Increased storage capacity
You will be able to access files and multimedia, like music and pictures, that are stored remotely on another computer or network-attached storage.
2. Higher information security
Computer networks can give you a sense of security when you permit computers. Most of the time, a user ID and password are used to let someone in. So, it makes sure that a person can only log in if the information they give matches what is in the database.
3. Easy file sharing
The data you store on other devices can be shared with other users and accessed remotely if they are also connected.
4. Save money
You can also save money by using networked resources like printers, scanners, copiers, etc., or by letting multiple people use the same software.
5. More reliable data
There's no doubt that the information on the central server is more reliable. If the information on one computer gets lost for some reason, you can also use another computer to get to the same kind of data. So, there are no interruptions in the office, which makes things run smoothly.
6. Improved Communication
Customers, suppliers, and employees can easily share information and get in touch with each other through email, chat, and phone calls made over the network.
7. Better collaboration
Using computers and a computer network makes it easier for people in business to work together. These tasks can be done easily, whether the goal is to connect teams, set up social events, or get personal responses.
8. Higher connectivity
It makes it possible for people to stay in touch wherever they are. With the rise of video calling apps and Google documents, we can see how we can stay in touch with friends and coworkers during these hard times.
9. Increased flexibility
There are a number of reasons why computer networks are flexible. They give people a chance to find out anything they want to know.
10. Reliability
Computer networking backs up information so that work can continue without interruption. So you no longer have to worry about your devices and equipment breaking.
11. Helps to improve connectivity
Networks link and connect any number of computers together. The people who use those computers can then talk to each other. Local area networks connect the people in a workgroup to each other. There are connections between many LANs in different places. Email is now the easiest and least expensive way for users to share information with each other.
You May Also Like
Top 10 Easy Computer Science Projects for Final Year
12. Networking makes it easier to share hardware
Networks make it easier to share different types of hardware. For example, if there are twenty people in an office and only one printer, the printer can be shared by connecting the wires. This saves a lot of money that would have been spent if each computer used had to have twenty different printers.
13.Makes it easier to manage data
Networking is helpful because it lets all of the user systems' data be put on one system, which can be managed more easily and better. Administrators can then handle all of this information in a way that is efficient and good for the company. Even getting to this information is easy for users.
14. Internet
The Internet, which is used by a lot of people all over the world, is the most beautiful thing that networking has given us. When you connect to the Internet, you're using a network. There's no need to list the benefits of the internet. Thanks to networking, which is a great world.
15. Data Sharing
Using networks to share information saves a lot of time and effort. It also makes it easier to use applications like databases, which depend on the fact that many people can access and share the same data.
16. Networking has made gaming more popular
Players from all over the world use the same servers to play many online games, such as WOW. People have fun with these, and they also get better at what they do.
Conclusion
So many different things that are good about networking for people all over the world. How well networking works to help people depends on how often it is used.
So, make the most of this great thing that technology has given to people. If you think we have missed any of the benefits of computer networks, then comment down below
Frequently Asked Questions
How does a company benefit from having a computer network?
Staff, customers, and suppliers can easily share information and get in touch with each other.
Your business can become more efficient. For example, if everyone has access to the same database through a network, the same information doesn't have to be typed in more than once. This saves time and prevents mistakes.
What are the drawbacks of computer networking?
It can cause us to lose access to information quickly.
Computer networking changes the way work and life fit together.
The cost of putting together a network of computers is very high.
Computer networking can lead us to many different things that can distract us.
It needs to be set up in a certain way.