C#, also recognized as C sharp is regarded as a programming language that is widely used to create a software program that works easily on .NET Framework. Because of its uncomplicated C-based syntax, it is the most widely used language.
Writing C# Programming homework is not an easy task for several students. Sometimes their educator gives several assignments to students at the same time, which creates a terrible situation for students. Teachers usually assign programming homework to students in order to sharpen their programming understanding and coding skills. They don't care about how you're going to make your homework on time. Writing a C# programming assignment requires time. Several students can do C# coding easily in a short time but there are many students who can't because of many reasons. That's why they start looking for online C# homework help.
Features of C# programming language
Easy-to-use Generics
Assembly Versioning
Lambda Expressions and LINQ
Conditional Compilation
Events and Properties
Simple Multithreading
Integration with Windows
Indexers
Automatic Garbage Collection
Boolean Conditions
Standard Library
Events Management and Delegates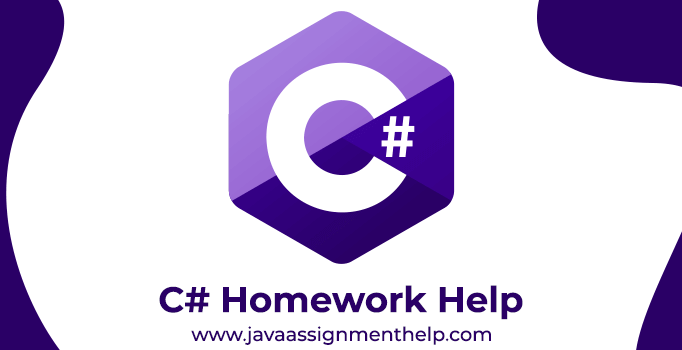 Reasons Why Students Fail To Complete Their C# Homework
There are several reasons because of which students fail to deliver the best quality C# programming homework. Here we have shared the top reasons students fail to maintain the quality of the homework.
Too many homework
The subject matter is too difficult
Not enough time
Sometimes, the teacher is hard to understand
Not an expert in coding
Personal problems
Poor attitudes lead to poor grades
Don't like to do homework
Insufficient material

These are common problems encountered by most of the students. Some problems can be overcome with the help of your professor, friends, or family, but rest you cant solve with the help of them. To solve those kinds of problems, you need a proper help from C# homework experts. If you follow the steps we mention below will help you find the best guide for C# programming homework.

Our service providers also give help on following C sharp Homework topics:

.NET Assemblies
C# variables and programs
Object Serialization
Object Lifetime and Exceptions
AppDomains
More variables and Flow Control
Form Controls
Debugging and Functions
Deploying and Apps GDI+
Intro to OOP and Classes
Attribute-based programming
Advanced C# Type Construction
Callback Interfaces, Events, and Delegates
Collections and Interfaces
Windows Forms features

What makes Our C# Homework Help Different From Others :

Quality data : Our website is known for our best quality data help with C# homework. Our experts always try to maintain the individuality of the data so that our website can satisfy the clients with the quality of the content. We always ensure that each student must have an informative and accurate C# programming homework.
Free revision: If you are not fully satisfied with your homework, then one can request free revisions. Our professional team can offer you the number of revisions and help with C# homework, and these revisions are provided at zero price.
Professional writers: For recruitment, we test these programmers by a number of test series by which we can judge their programming skills and knowledge so that they can write quality homework and offer you C# homework help. Our experts hold a degree from the top universities like British Columbia University, University of Warwick, etc. Our professionals are also well-versed with the syntax method of C# programming language.
Secure payment methods: We accept payment through various online methods such as PayPal, credit card, debit cards, and much more. We have also mentioned transparency in our payment and refund policies so that you can check them out and proceed further.
Guarantees privacy : Our experts can understand your worry about your privacy. Therefore we can guarantee that we will not share your personal details with anybody; we keep it confidential. So that you feel secure while talking to our customer support executive.
Delivery on time: Our experts always value the time; therefore, they are very particular about the deadlines. They always make sure that each C# homework help must be available on time so that each student can solve their issues instantly. Our experts also do not mind the short deadlines as our main motive is to provide the data on the slotted dates.
24*7 support : We are accessible to you around the clock to solve your programming problems. You can contact us whenever you face any kind of difficulty. We will provide you the best solution with C# homework help at the moment so that you can relax with your homework.
Plagiarism report available at free of cost: As we have mentioned above that, we have rated for the unique data assignments, to prove this statement, we provide the plagiarism report along with the data content to check the individuality of the data.