Java

Programming Help By CS Experts
Java is one of the most in-demand but complex programming languages. It is commonly used by programmers to produce and distribute content on the Web. Nowadays, a large number of students choose this subject for study. The growing demand for Java has prompted ace programmers to start Java programming help.
Completing Java projects is one of the most difficult tasks for student life. Complex coding and large concepts confuse students. That is why; Java programming help is a sigh of satisfaction because it helps you deal with the topic in an organized way. Our team of java assignment help experts is available 24/7 for your help in java programming.
What Is Java Programming?
Java is a general-purpose computer-programming language that is concurrent, class-based, object-oriented, and specifically designed to develop new softwares for various platforms. When a coder writes a Java application, the compiled code (known as bytecode) runs on most operating systems (OS), including Windows, Linux and Mac OS. Java derives much of its syntax from the C and C++ programming languages. If you need any kind of programming assignment help then you can come to us anytime. Our java programming help experts are always available to give help.
What Is Java Programming Platform?
Java platform is a collection of programs that help to develop and run programs written in the Java programming language. Java platform includes an execution engine, a compiler, and a set of libraries. JAVA is platform-independent language. It is not specific to any processor or operating system.
Different platforms target different classes of device and application domains:
Java Card: It allow programmers to run small Java-based application securely on smart cards or small memory devices.
Java ME (Micro Edition): Specifically it used for devices with limited storage, display, and power capacities. It is mainly used to make applications for mobile devices, PDAs, TV set-top boxes, and printers.
Java SE (Standard Edition): This version is used for general-purpose on desktop PCs, servers and similar devices.
Java EE (Enterprise Edition): It is the upgraded version of Java SE plus used for various APIs which are useful for multi-tier client–server enterprise applications.
To understand JAVA language, we need to understand some basic concept of how a computer program can run a command and execute the action.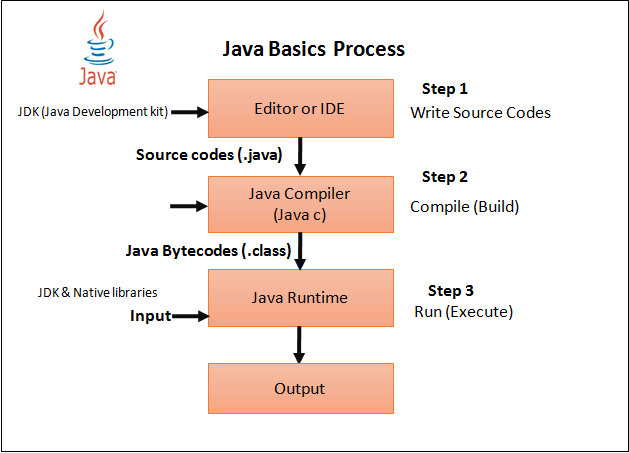 Features of Java
Independent Language :- Java is an independent language. The programmer convert source code to bytecode and we can run this bytecode on any platform.
Object-Oriented Language :- We all know that Java is an object-oriented language. It represents an instance of a class like inheritance, abstraction, polymorphism, encapsulation.
Simple Language :- Java is simple Language. It has no Complex features like a pointer, operator overloading, inheritance, etc. So, that's why it is easy to learn
Multithreading :-The multithreading features of Java is mainly used for total utilization of CPU. It allows synchronized execution of two or more fragments of a program.
Portable :- Because of its portable feature if a java code is written on one computer system then it can run on another PC. Bytecode can transmit to any platform for execution.
Secure :- Java is a secure language. It enables to develop tamper-free and virus-free systems. It doesn't support pointer for the memory.
Dynamic :- Java is a dynamic language. During execution time, the java environment can extent itself by linkin in classes. We can place it on remote servers on the internet.
If you want Java programming help then we have a team of
Java Assignment Help
expert for its solutions. Java coder helper can support you with Java programming assignment. If you have any problems, then experts are here to assist you 24*7. Java programming help expert support you with huge assignments. In this case, experts provide service at every point. The platform where you stand up will provide instruction for support. They support you in the preparation of the assignments.
Experts Support You With Other Java-Related Technologies
Java Swing
Java Threads
Polymorphism
Java Applets
Flowcharts
J2EEE
JavaScript
XML
Activity Diagrams
Sequence Diagrams
Class Diagrams
Development of minor projects with Java
Java MCQ
How Will You Resolve Your Java Programming Assignment?
Java Assignment Help experts provide java programming help as per your instruction. Our tutors do java programming according to client's wish.
Java Assignment Help experts have operated on many Java integrated development environment (IDE). Experts use following IDE.
Eclipse
JGRASP
IntelliJ IDEA
BlueJ
MyEclipse
NetBeans
DrJava
Our Service To Do My Java Programming Assignment
1000+ clients worldwide
24/7 Customer support service
High-Quality Java programming help within the deadline
Qualified & experienced Experts
Error free Java programming help at a reasonable price
Exciting offers during festive season

If you're looking for a quick, reasonable, best and convenient help in doing your Java programming help, you are in the right place. Do not hesitate, ask our expert programmers to do my Java assignment.

We are like your hero or a savior. And if the avengers were true, we would probably be one of them—but we'll work behind the scenes.