R Programming

Assignment Help By CS Experts
Table of Contents
The programming language, commonly called just 'R,' is an open-source programming language. It is supported by the R Foundation for Statistical Computing, which creates a software environment for statistical computing and graphics. The R language is widely used among data miners and statisticians for data analysis and statistical software development.
Purpose of the R programming: R is an extensible and flexible open-source language, which has essentially gained popularity over the past few years. It is offered in most colleges and universities for statistical operations such as analysis, clustering, classical statistical tests, linear and non-linear modeling, and time-series analysis.
Writing R programming assignments requires a good understanding of complex statistical tools and techniques. Some students are not interested in learning the R programming language. This is why they face difficulties to complete R programming assignment help within the given time frame. If you are looking for the best R programming help, contact us. We can provide the best R Studio help to all students studying in schools, colleges, and universities.
We have a team of qualified and experienced R Programming homework Help writers. They have a vast knowledge of their respective fields. Our R programming help experts are holders of Master's Degree and PhD. from recognized universities around the world. They always use a step-by-step approach and provide students a detailed and accurate assignment.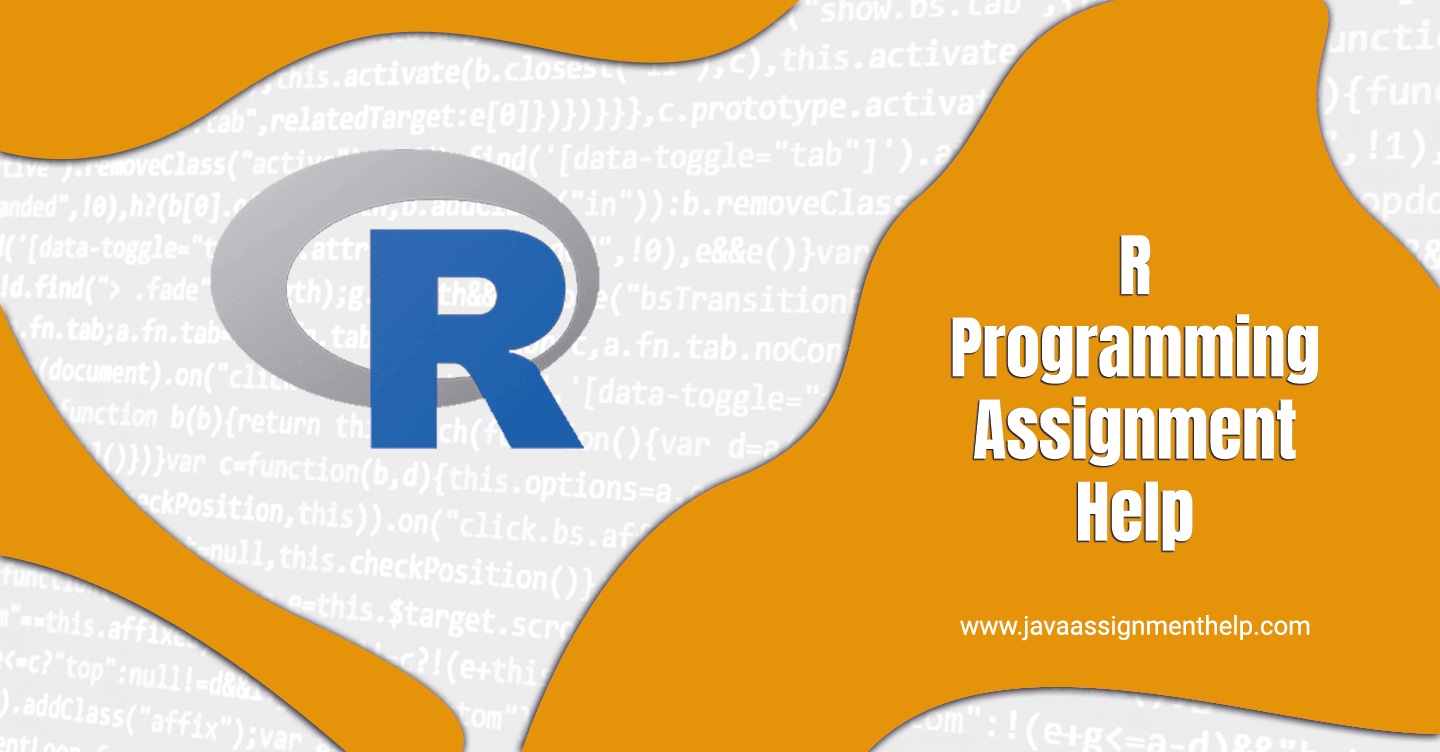 What Is R Programming?
R is a direct implementation of the S programming language and is given with a Lexical Scoping semantics, inspired by the programming language called 'Scheme.' Programming Language S was initially developed by John Chambers at Bell Labs, while Ross Laka and Robert Gentleman created r Language.
The R program is generally freely available under public license, and its source code was primarily written in C, Fortran and R. Although it uses a command-line interface, many graphical user interfaces that are also available in the R programming language. Nowadays, R plays an important role in the field of medicine, clinical trials, and many research projects.
Example Of R Programming
Example 1
# String
# Character
z <- "R"
class(z)
Output
## [1] "character"
Example 2
# Declare variables of other kind
# Numeric
a <- 30
class(a)
Output
## [1] "numeric"
Features to know before getting R Programming Assignment Help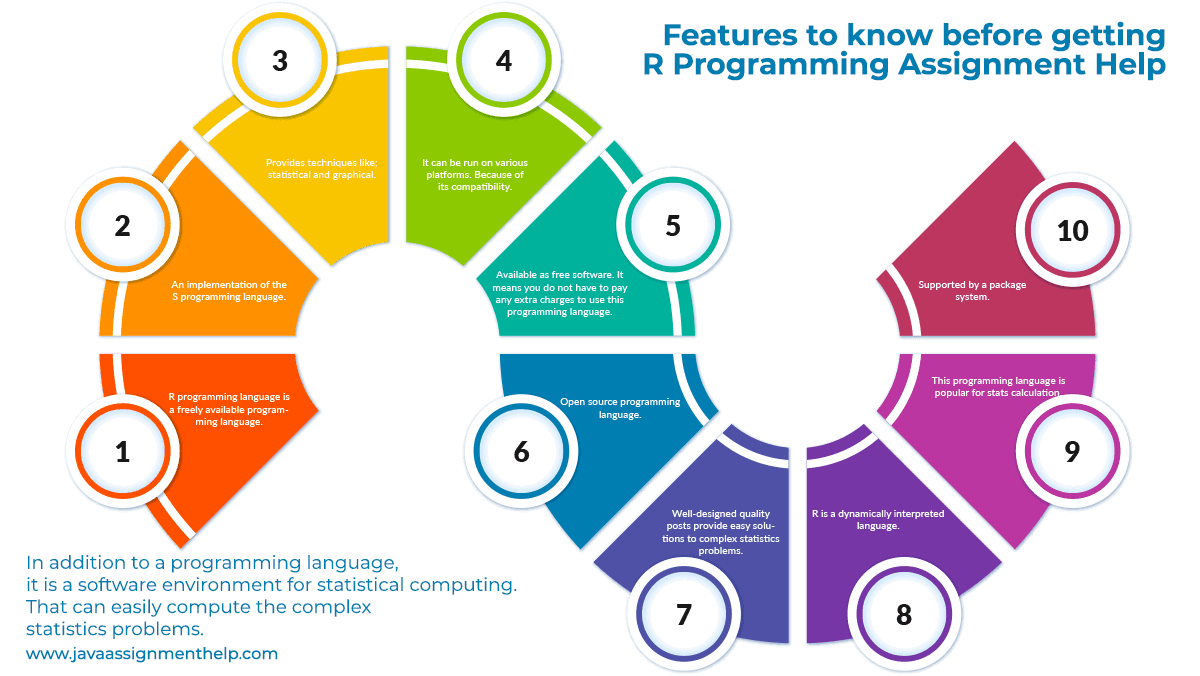 In addition to a programming language, it is a software environment for statistical computing. That can easily compute the complex statistics problems.
R programming language is a freely available programming language. That means one can use its platform free of cost and utilize it for different purposes.
An implementation of the S programming language.
Provides techniques like; statistical and graphical. That is used to describe the data in a more informative and easy way.
It can be run on various platforms. Because of its compatibility, this programming language can be easily run on different platforms.
Available as free software. It means you do not have to pay any extra charges to use this programming language.
Open source programming language.
Well-designed quality posts provide easy solutions to complex statistics problems.
R is a dynamically interpreted language.
This programming language is popular for stats calculation as it offers results of complicated statistics questions within a few minutes.
Supported by a package system.
Why Learn R Programming Language?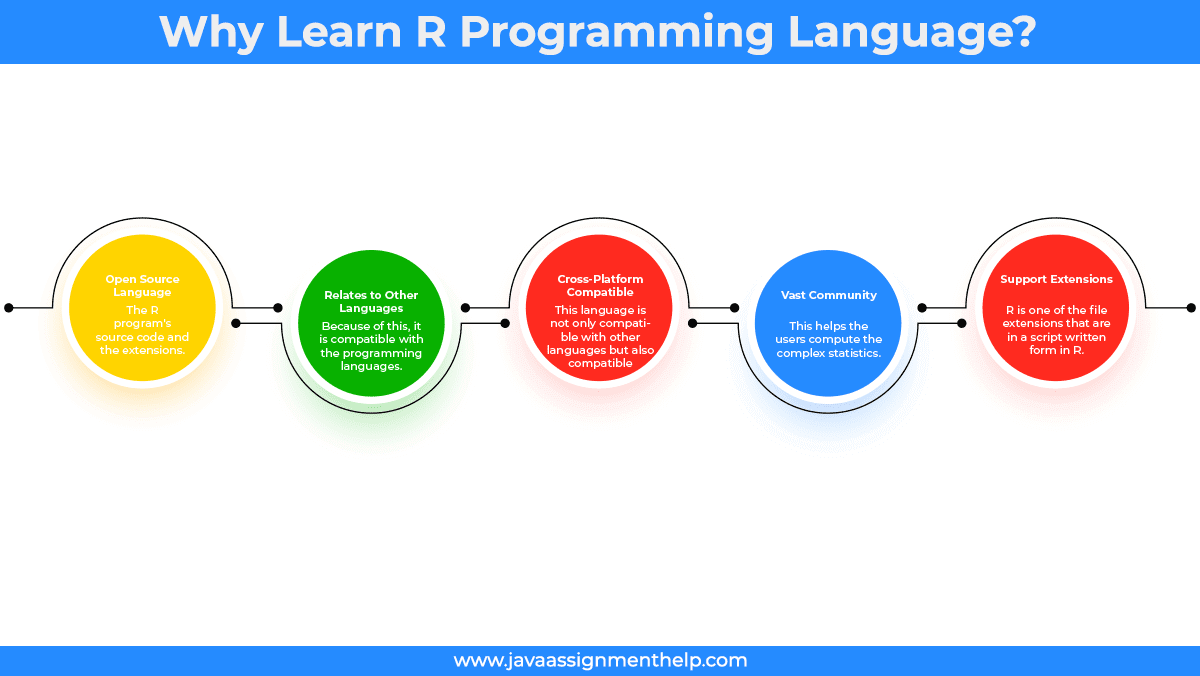 Open Source Language: The R program's source code and the extensions could be examined line by line.
Relates to Other Languages: Because of this, it is compatible with the programming languages.
Cross-Platform Compatible: This language is not only compatible with other languages but also compatible with other platforms. This implies that it can run on different platforms easily.
Vast Community: This helps the users compute the complex statistics problems easily with its library and community.
Support Extensions: R is one of the file extensions that are in a script written form in R.
Applications of R Programming
R offers advanced statistical techniques used for all the financial work and computations. Auto-regression, moving averages, time-series analysis, financial data mining, stock-market modeling, downside risk evaluation can be done easily with R and its libraries.
The IT sector uses an R programming language to produce data handling products and statistical computing tools. Some large IT organizations that use R are:

IBM
Accenture
Paytm
Wipro
Infosys
Tata Consultancy Services

In banks, R uses for credit risk modeling and to analyze other risks. Banks usually use this programming language with other proprietary software, such as SAS. It is utilized for mortgage haircut modeling, fraud detection, stat modeling, loan stress test simulation, volatility modeling, and much more.
Drug discovery, genetics, epidemiology, bioinformatics, etc. are healthcare areas, which utilize R heavily.
Problems Faced By Students While Write R Programming Assignment
However, before you write the assignment, you need to understand what the assignment is. An assignment is a method of getting new information about unexplained scopes of the topic. It can detect and dig information that is useful for the progress of the study.
R programming language is very important in statistics calculations, such as probability, regression analysis and hypothesis testing. Students must have a thorough understanding of the use and application of this software. Most of the time, students need to seek the help of experts because;
They do not have access to the R programming tools required for writing their assignment. But they can take our R homework help that offers assignment analyzes done with the R programming tools.
Lack of time to do their assignment. Sometimes, students do not have enough time to write their assignments for several reasons, such as a part-time job and much more. That is why they are unable to submit their assignment on time.
Sometimes they don't understand the formulas and concepts used in R programming. Most of the time, R studio tutors provide the assignment to students that require in depth knowledge to write it. Students fail to write those kinds of assignments; therefore, they look for R studio assignment help.
R Programming Homework Help
Our R Programming Homework help service protects the student from all this stress. We have a team of professionals who have spent years helping students struggling with their R homework. They have experience in using and application of statistical software. They will handle all your R assignments easily and provide you with precise and accurate answers.
We know how important the work is for the final grade of the students in their academic studies. Without good grades, the student cannot pass the course. We are dedicated to ensuring that our students do not fail in their assignment. Some of our teachers are lecturers; they know that your professors will know the factors that are included in the assignment to provide you with those higher grades. So, contact us to take the best help with R assignments.
Complex R programming topics
R is a statistical programming language and there are several topics that makes it quite complex for the students to complete their assignments. Therefore, students seek online help for r assignments.
R Studio
This is the core aspect of the whole ecology of R. This is the key environment of creation which is available in R. You can have this studio's free version or a premium edition. R Studio is compliant with the different operating systems and browsers associated with it. This is used in numerous applications and in various courses taught in universities to specialize in them.
Mapping
In addition to numbers, R is often used to plot data on maps in the geographical information system. By learning the principles of geography, students are able to prepare ready maps for publishing. However, if you feel stressed about writing the assignment on this subject, you can seek our support from our trained programmers for our R programming assignment.
R graphics
This is the most difficult field where the job will require realistic exposure for students to compose. Rather than figures, students should concentrate on photographs. Graphics over details are generally favoured. Our R statistics allow experts to be well-acquainted with this subject and to work on it with enough knowledge. We are still there for you if you need realistic assistance.
R studio Homework Help Experts
An assignment created by an expert has the strength to deliver the most authentic information and can display information that is useful for advancement.
Experts prepare an assignment with the most authentic and tested research supported by years of experience. It is the ability to give information supported by evidence in an assignment produced by an incapable expert.
Experts are mostly equipped with resources that ultimately help express various old events regarding the subject and better understand its research.
Explore the Features of the R Online Help Service for R Assignment Help
OS Freedom: Unix, Linux, Windows, MacOS, FreeBSD
Open source: Source code of R programs and extensions can be checked by line
Data structures: Vectors, Metrics, Arrays, Data Frames, Lists
Interpreted language: R is an interpreting language, but maybe rather slow but may integrate with highly efficient languages like C, C+, or Fortran.
Flow Control Statement: While, Repeat, Brake, continue, IF, Return
Exceptions by using try-catch blocks: Exceptions, using try-catch blocks
Function: Default parameter, status or named argument, normal, anonymous
Supported procedural programming with functions
Best R Programming Assignment Help Online
If you are tense about your R assignment, then you don't need to worry anymore. We are the best R Programming Assignment Help online. You can easily approach our R assignment help experts and discuss your requirements via live chat and email. We have been providing help in R programming for many years. We have helped thousands of students in these years. All our clients are fully satisfied with our services. We have a team of R statistics programmers who are some of the best R programmers in the world. They have a good knowledge of R to help you get A+ grades when you take R programming project help from us. Our R statistics help experts follow the university or college guidelines given by your tutors and help you secure the highest grades in your course. So, don't get late and get the best R Programming Assignment Solution Help from us.
Topics Covered In Our R Programming Assignment Help
Logistic Regression
Non-parametric tests
Alternate Hypothesis
Sampling
Central Limit Theorem
Markov chains analysis
Stochastic process
Simple Linear Regression
Correlation analysis
Design of Experiments
Probability Theory
Bootstrapping
Statistical Inference
Distribution Theory
Multivariate analysis
ANOVA
Chi-square test
Box plot
Monte Carlo simulation
Statistical process control
Time series
Multiple regression
Parametric tests
Null Hypothesis
Hypothesis Tests and confidence intervals
Scatter plot
Biostatistics
Econometrics
Our other Programming Assignment Help Services
Get the Most Affordable Help with R programming Assignment
Student life is not easy as most students have a limited budget. They can't pay much for R Programming online tutoring. If you are also one of them and looking for an authentic R programming assignment help service within your limited budget, then this is the best place for you. We understand that every student is not born with a silver spoon in his mouth. Therefore we have kept our charges almost next to nothing. Apart from low charges, we also offer huge discounts seasonally on R programming assignments for students. Now, if you are thinking about the quality of our online R Programming Assignment Help, then you don't need to worry even a bit. We have a vast team of R Programming assignment experts who know the ins and outs of R.
Our experts constantly take care of the quality and uniqueness of the work. Moreover, we also cross-check the solution provided by experts so that there is no chance of error in our work. Our R Homework Solutions will surely help you achieve your desired score. Our experts are available round the clock in your service. You can get in touch with them anytime via phone call, live chat, and email and place your order for R assignment help online.
Get The Best Services From R Programming Assignment Help Experts
Our programming assignment Help experts are dedicated to excellent service with support experts
24/7 of Programming Homework helps experts Availability
Affordable prices with safe payment methods
100% privacy and money guaranteed
Proofreading and editing of services
100% Satisfaction Guaranteed
Help all learners living in USA and other countries
Get top score in R programming assignment
Our R Programming Assignment Sample
If you are confused about the question of whether to take our experts' help or not. Then do not worry, as we have a solution for this question too. We have provided a sample that can help you understand what kind of assignment we offer. Analyze it thoroughly and decide accordingly. Our R programming assignment help is not only helping to understand the programming but also improve your grades.
R Programming Assignment Help FAQs
We cover all topics that fall under the r programming course. We have already provided r programming assignment help on ANOVA, Sampling, Distribution Theory, Correlation analysis, and much more. Therefore, you can take our experts' help on any topic of r programming.
Of course! Our experts provide you the best and detailed solutions with research data for your queries. This will not only help you to improve your grades but also improve your knowledge.
Yes, you can. We have a live chat option on our official website. You can contact us and get in touch with our support team who are available 24*7.