Help With
JavaScript

By CS Experts
Table of Contents
If you are searching for online help with JavaScript, you can get JavaScript Assignment Help from our computer science experts. We provide online JavaScript assignment help that will help you score high grades in your assignments and improve your knowledge. So whenever you find any difficulty with your JavaScript assignment, contact us to get instant help from professionals. Besides this, we offer all our services at a reasonable price so that each student can avail of our service without thinking twice in terms of cost.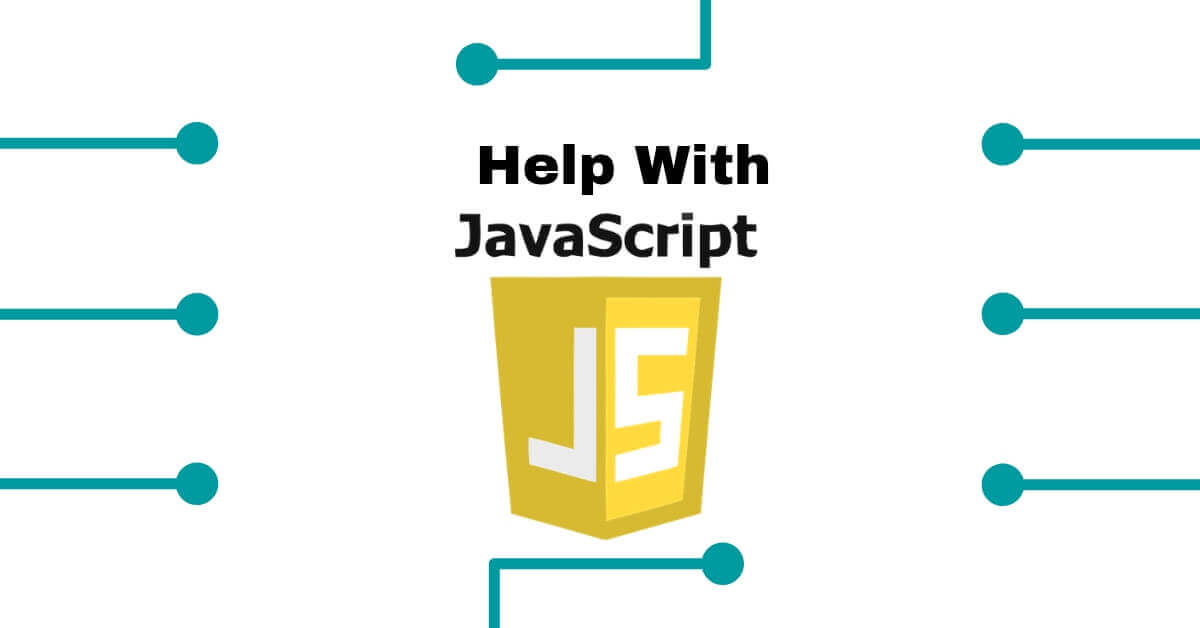 Overview of JavaScript Language
JavaScript was initially developed in Netscape, by Brendan Eich. Battling with Microsoft over the Internet, Netscape considered their client-server solution as a distributed OS, running a portable version of Sun Microsystems' Java. Because Java was a C++ competitor and aimed at professional programmers, Netscape also required a lightweight interpreted language that would complement Java by appealing to nonprofessional programmers, like Microsoft's Visual Basic.
LiveScript was the official name for the language when it first shipped in beta releases of Netscape Navigator 2.0 in September 1995. But it was renamed JavaScript when it was arranged in the Netscape browser version 2.0B3.
JavaScript controls the behavior of the web page, which runs on the client-side of the web. The functions of JavaScript are both procedural and object-oriented language. It supports different programming styles like; event-driven, functional, and imperative programming styles.
The JavaScript engines also relate to the different host software types, server-side in web servers, and databases. It is also available in various non-web programs like word processors and PDF software.
In November 1996, Netscape announced that it had submitted JavaScript to Ecma International for consideration as an industry standard, and subsequent work resulted in the standardized version named ECMAScript.
Uses of JavaScript
JavaScript is a very easy programming language that will see a lot of progress in recent times. Some applications of JavaScript are
Provide client-side verification

Form verification is the condition that programmers set about the data to be entered by the user. You may have noticed that no error message occurs when you enter an alphabet on the phone. This is done by using help with JavaScript.

Providing these validations on the client-side saves traffic on the server.

As a server-side technology

Most up-to-date development JavaScript is used as a server-side technology. The nodes are available in various modules like JS and Express JS, which are very efficient for handling real-time applications and are much faster than other available technologies. Build a real-time pole app with Node.js, Express, AngularJS, and MongoDB.

JavaScript is also widely used to provide other applications- popups, animations, visual effects, etc. Various libraries are available for js such as jquery, which contains pre-written files that can be easily accessed on the website.
Overall, we can say that JavaScript is a very useful tool for web development.
Help with JavaScript assignment- What Can JavaScript Perform?
Concepts Covered By Our JavaScript Experts
Javascript is a scripting programming language. It can be used in building mobile applications, web applications and websites. There are various concepts in java that students learn and make assignments on them.
Exception handling
It is handling errors in programming languages. This is a very significant principle that has been taught by scholars. Our JavaScript Support programmers may be contacted by students who skipped attending the classes on handling exceptions and who face trouble grasping the definition. We help to flawlessly craft the assignments.
Scope
Scope implies control by variable. When a code is running, which variable do I have access to? By default, in Javascript, you are still in the root scope, i.e. the scope of the browser. There are two types of scope in Javascript
Closures
In JavaScript, a closure is a feature where an inner function has access to the variables of the outer (enclosing) function, a scope chain. The closure has three chains of scope: it has access to its own scope, variables within its curly brackets that are specified. It has access to the variables of an external function.
JavaScript provides a programming device to HTML creative designers- HTML experts are usually not developers; however, JavaScript is a scripting language with a simple syntax.
JavaScript can read as well as HTML components- JavaScript can read and change this content of an HTML element.
JavaScript can be used to verify data- JavaScript can be used to validate form data before submitting data to the server. This prevents the server from processing additional.
Cookies can be used to create JavaScript- JavaScript can be used to store and retrieve information on the visitor's computer.
Java and JavaScript are not the same. Java and JavaScript have 2 different languages in both consideration and design. Built by Java Sun Microsystems: an effective and much more complex programming language - in the same category as C and C++.
Best JavaScript IDE
Well, before answering that question, the number of IDE escaping is quite good, but I would say it depends on the complexity of the JavaScript project and the type of other techniques you can use with it.
Let's look at some of the lists
Atomic IDE

Atom's JavaScript package features include a selection of several features, including context-aware auto-fulfillment. The code navigation is easier than ever with an outline view for your document, search for all references, and go to the definition. Developers can also use hover to reveal information and use the full set of diagnostic tools (errors and warnings) to understand their code better.

Brackets

The bracket is an open-source code editor for the web from Adobe. Since it is written in JavaScript, HTML, and CSS, Bracket provides a basic code editing experience for developers without any compatibility issues.

Visual Studio Code

VS Code provides smart perfection with IntelliSense, built-in Git integration, debug code directly from the editor, and much more. VS Code is highly extensible with many customization options through many extensions. It also provides support in dozens of languages.

Sublime text 3

Sublime is a sophisticated text editor for text codes, markup, and prose. You have thousands of packages that you can install using package controls to make JavaScript control easier.

NetBeans IDE

NetBeans IDE makes it easy to easily develop applications with a set of languages for desktop, mobile, and web. And of course, some JavaScript developments support IntelliJ IDEAoffers.

WebStorm IDE

WebStorm is one of the most popular JavaScript IDE in the market. While this solution to JetBrains isn't cheap at all, you're getting a powerful IDE for modern JavaScript development with smart coding support. Its features include code completion, error detection, and refactoring for many languages such as JavaScript, Node.js, HTML, and CSS.

The underlying debugger targets client-side code as well as Node.js applications. Developers can evaluate their code without exiting the IDE. With the report card visualized for debug tests, the test can also be performed within the webstorm. Spy-js traces JavaScript code to help prevent bottlenecks.
For more information about the help with JavaScript, get in touch with us.
"Hello World" Program In JavaScript
<!DOCTYPE HTML>

<html>

<head>

<title></title>

<!-- Script tag can also be placed here -->

</head>

<body>

<p>Before the script...</p>

<!-- Script tag inside the body -->

<script>

// write the JavaScript code inside it

</script>

<p>...After the script.</p>

</body>

</html>

As Console.log() code:

<script>

// using console.log

console.log('Hello World');

</script>

As document.write() code:

<script>

// using document.write

document.write('Hello World');

</script>

As alert() code:

<script>

// using alert

alert('Hello World');

</script>

All program code will show output as:

Hello World

Which is the best way to practice JavaScript?
The best way to practice JavaScript is to work on the project. You can also get help with JavaScript from our experts. They are always available to help you.
You can also write JavaScript at the end of the server and do even more practice. Node.js will help you with this.
Some sample projects that can be carried out in the front-end by any set of stacks:
To-Do List
Music library
Contact / Contact Phone Book
Any project that includes CRUD operations
Do not complete the project at once. Come to the to-do list. Don't try to build all the features of Advanced To-Do at once. Go by step like:
Add To-Do Item as well as View/Remove for newly added items. Update DOM.
Delete To-Do items and update views.
Edit To-Do items and reflect changes.
Marked and may be complete or incomplete.
To-Do items have a time limit/time frame. Try adding a full date.
Add space to the todo item.
It was a single list, now makes multiple lists in the same application.
Naming and renaming lists.
AJAX for small parts of the To-Do list and.
Multiple user registrations and logins.
Each user can have multiple lists beginning.
Need Help With JavaScript?
We have a team of professionals who hold degrees like masters and Ph.D. They provide help with JavaScript, JavaScript assignment help, and homework to make you more efficient and score good academics grades.
Hence we support students to take project help with JavaScript, assignment help, and homework help to become flourish in their study life in the area of JavaScript. To get help, Submit work now.
Javascript Assignment Help Topics Covered By Our Experienced Writers
Our writers are well experienced in the field of Computer Science. They offer top-notch help with JavaScript assignments to the college students. Their vast knowledge and expertise in the programming field are beneficial for you. These are a few JavaScript assignment help topics covered by our professional assignment expert
Exceptional handling in JavaScript
JavaScript Prototypes
Asynchronous Programming
Closures and Lambdas
JQuery
JavaScript Data Types
JavaScript Array Methods
JavaScript Debugging
JavaScript Operators
JavaScript Functions
JavaScript DOM HTML
Flow Control
Modules and Namespaces
Scripting HTTP
Function Parameters/Arguments
Form Elements
Data Types and Values
Events and Events handling
These are some JavaScript assignment help topics in which our experts provide assistance. You can get help with JavaScript assignment solutions available on our official website.
Why Do Students Choose Our Help with JavaScript Writing Services?
24/7 online customer support
Email and Live Homework and assignment help
High-Quality assignment within the deadline
Detailed Help With JavaScript
Qualified & experienced Experts
Plagiarism free assignments at an affordable price
Immense revisions
Affordable prices and secure payment mode
On-time delivery
Our JavaScript Assignment Sample
Several students are confused with java and JavaScript programming; that is why they cannot solve their JavaScript assignments and look for online help with JavaScript assignments. We are the best fit for this, as we are renowned for our high-quality solutions delivered within deadlines. If you want to find how we help students with their JavaScript assignments, you can check our samples. So, whenever you find any issue with your JavaScript assignment, contact our CS experts to get the best solution to your JavaScript programming queries.
Download Sample
FAQs related to JavaScript Assignment
We cover all topics that fall under the JavaScript course. We have already provided JavaScript assignment help on JavaScript Functions, JavaScript DOM HTML, Flow Control, and much more. Therefore, you can take our experts' help on any topic of JavaScript.
We can deliver your assignments before the deadlines so that you can check your work and request us to make any changes if required.
Yes, we do, but it is available seasonally as well as occasionally. So you have to confirm it from our support team to get any discount.